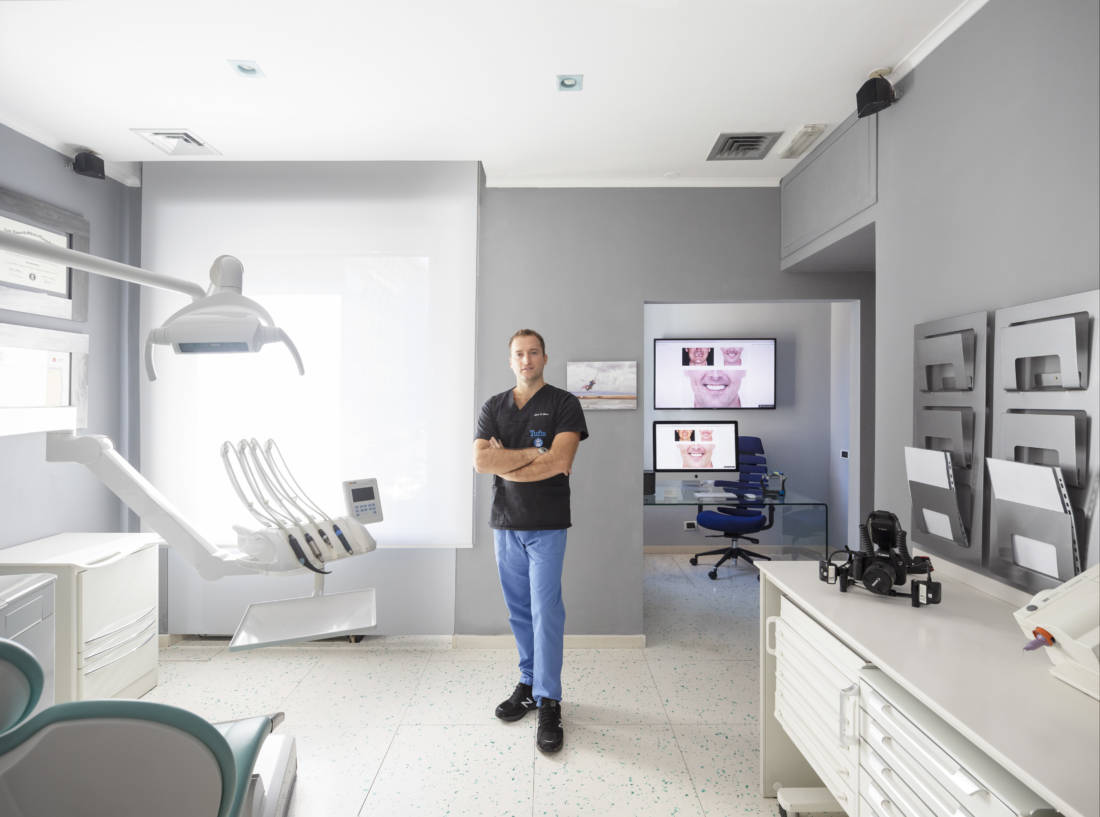 How to have the Perfect Smile: Tips and tricks from the Specialist
Smiling is our business card, which gives us self – confidence, happiness and overall health.
We can really say that a good smile boosts our personality.
Let us show you how you can treat your teeth and obtain a surprising final outcome.
The dentist is someone who is able to combine talent and experience to restore and create the real anatomy of a tooth .
Modeling, correcting and replacing can be a bit like creating a tailored suit.
A dental technician, a ceramist (the one who designs ceramic teeth) has to keep in mind the characteristics of each person and individualize his smile accordingly. It is the accuracy and details inherent in the harmonic composition that give smiles a lasting value. A real teamwork between the dentist and ceramist.
For a prosthodontist aside from the multidisciplinary approach with other doctors when aiming to restore ideally our patients there is a last fundamental aspect to consider : the art of reproducing nature.
Artistic talent must not disregard the natural anatomy of a real tooth. To this aid the continuous communication with our master technicians is mandatory.
Knowing how to communicate with lab technicians is key.
A ceramist is tailoring a dress on the body that we created, on a body that we designed; tailoring without design is lifeless and design without tailoring is mute. To achieve our goal we need to fuse these worlds together.
It is the accuracy and detail inherent in harmonic composition that endows these smiles with lasting value. Of course it is all about the time and attention paid by the prosthodontist but the ceramist with his final touch will make this detail, this dream, this vision possible.
Dental Crowns: when to apply them and who needs them?
If a patient has a damaged tooth due to decay, fracture or root canal therapy, a dental crown is the solution. A dental crown is a prosthesis, a cap placed over the compromised tooth.
Crowns are indicated for all those patients who:
must replace existing crowns that have not been successful;
must restore shape, function and aesthetics of severely damaged, worn down or fractured teeth, where other forms of restorations such as fillings are not suitable or have clinically failed;
want to improve the aesthetics of teeth that cannot be treated with simple cosmetics treatments;
want to preserve the long- term stability of the tooth and reduce the risk of extensive fractures
want to restore missing teeth and implants.
The first step: Face Analysis
Before proceeding with any type of treatment, Dr Cicero analyzes all the elements that make up the facial composition.
It begins with a frontal and lateral examination of the patient, including an analysis of the position of eyes, nose, lips and chin.
It is important to identify the points and lines of reference (a useful map for aesthetic and functional dento-facial rehabilitation).
This face analysis is shared with the team in order to design a unique and suitable smile for each patient.
Dental Crowns types and Inlays
Dental crowns are fixed prosthetic restorations made to restore a damaged tooth to its original shape and size. They're permanently cemented on teeth that have cracked, extensively decayed, or otherwise been damaged. Crowns are custom made to fit over each tooth.
Crowns are indicated to:
replace existing crowns which have failed;
restore the form, function and appearance of badly broken down, worn or fractured teeth, where other simpler forms of restorations are unsuitable or have been found to fail clinically;
improve the aesthetics of unsightly teeth which cannot be managed by simpler cosmetic and restorative procedures;
maintain the structural stability and reduce the risk of fractures of extensively restored teeth including those which have been endodontically treated;
restore the visible portion of a single dental implant.
The most common types of crows are:
Zirconia crowns: This is a relatively new material with great resistance and translucency as well as long- term clinical performance due to its characteristics of high strength and toughness.
Lithium disilicate crowns (E- Max): This is an all- ceramic crown made of lithium disilicate which is light, thin and translucent. The main advantage is great aesthetics. However in patients with strong masticatory forces some failures have been reported in the literature especially when restoring multiple teeth such as dental bridges.
Metal- ceramic crowns: These crowns often cause a grey – black color at the gumline. Although there were good reasons to use metal crowns in the past, today there are several reasons to not use them. Chipping of the veneering material has been reported with metal – ceramic crowns and the cost of noble alloys as well as increase in esthetic demand have reduced the use of metal ceramic and metal restorations.

Contact dr. Emanuele Cicero
There is no smile that is perfect for everyone, but there is a smile that adapts to the physiological traits of each patient and that is able to restore or replace compromised teeth in a short time.
Dr. Emanuele Cicero and his team will be able to help you have the smile of your dreams, that you will be able to show off in any occasion. Contact us for a tailored advise based on your oral situation.